New Book by Enrique Leff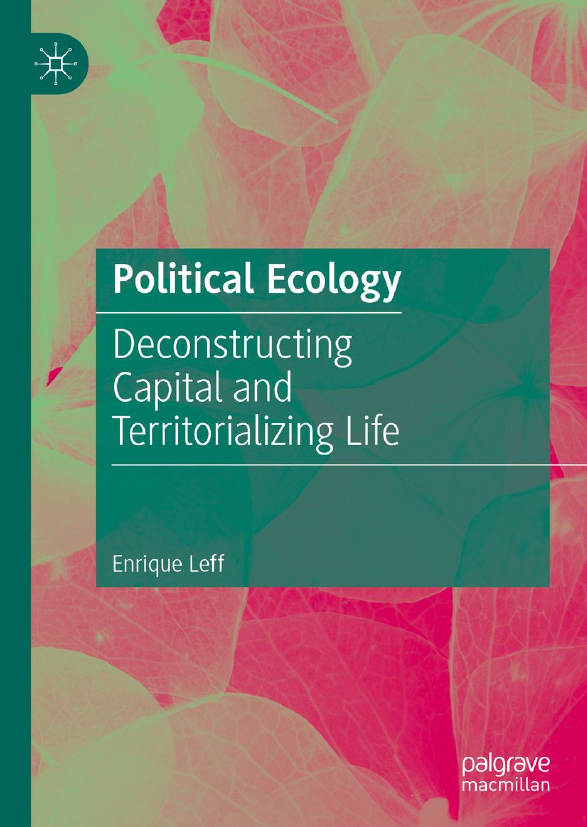 Political Ecology – Deconstructing Capital and Territorializing Life
Critiques the dominant geopolitics of "sustainable development"
Explores how the development of eco-territorial conflicts has affected environmental thinking
Introduces new concepts for the development of a sustainable world order
This book offers a conceptual framework for the critical understanding of the present socio-
environmental conflicts. It reflects on the evolution of subject and thought, a shift in
environmental thinking triggered by the development of eco-territorial conflicts and the
social responses given to the environmental question. Bringing together 40 years of the
authors writing and research, the book explores the transition from ecological economics and
historical materialism to ecological Marxism. It unpacks the forging of political ecology from
value theory in political economy, to ecological distribution and ecologies of difference; a
transition to an environmental rationality grounded in the ontology of diversity, a politics of
difference and an ethics of otherness. This evolution in thinking gives consistency to a
theoretical discourse able to respond to the territorial conflicts generated by the
radicalization of the environmental question as a key social issue of our times. The book is a
call to respond to the urgent challenge of reversing the tendency towards the entropic death
of the planet and to building a sustainable world order.

Enrique Leff is Senior Researcher for the Social Research Institute and a professor in the
Faculty of Political and Social Sciences at the National Autonomous University of Mexico. He is
an environmental theorist working in the fields of Political Ecology, Environmental
Epistemology and Philosophy, Ecological Economics and Environmental Education. He was
UNEP's Coordinator of the Environmental Training Network for Latin America and the
Caribbean (1986-2008) and UNEP's Coordinator for Mexico (2007-2008).